pk
Welcome to Fulton Blended Preschool!
River Bend School District offers one morning (9am- 11:30 am) and one afternoon (12:30 pm- 3:00 pm) pre-school session per day, which runs along the same schedule as the River Bend School District. The program also works in collaboration with Bi-County Special Education Cooperative to create a blended program, integrating in children with special needs. Teachers certified in early childhood education and special education provide educational programming based on the Illinois Early Learning Standards and Creative Curriculum for children ages 3-5 years. Screenings are held in the spring to determine eligibility for the following school year.
General Education Teacher: Ms. Shelby Wilkens
Special Education Teacher: Mrs. Dawna Kurtz
Location: 1217 14th Street, Fulton
Phone Number: 815-589-2309
Please contact the principal, Mr.Jeffrey Hoese, at Fulton Elementary School for further information.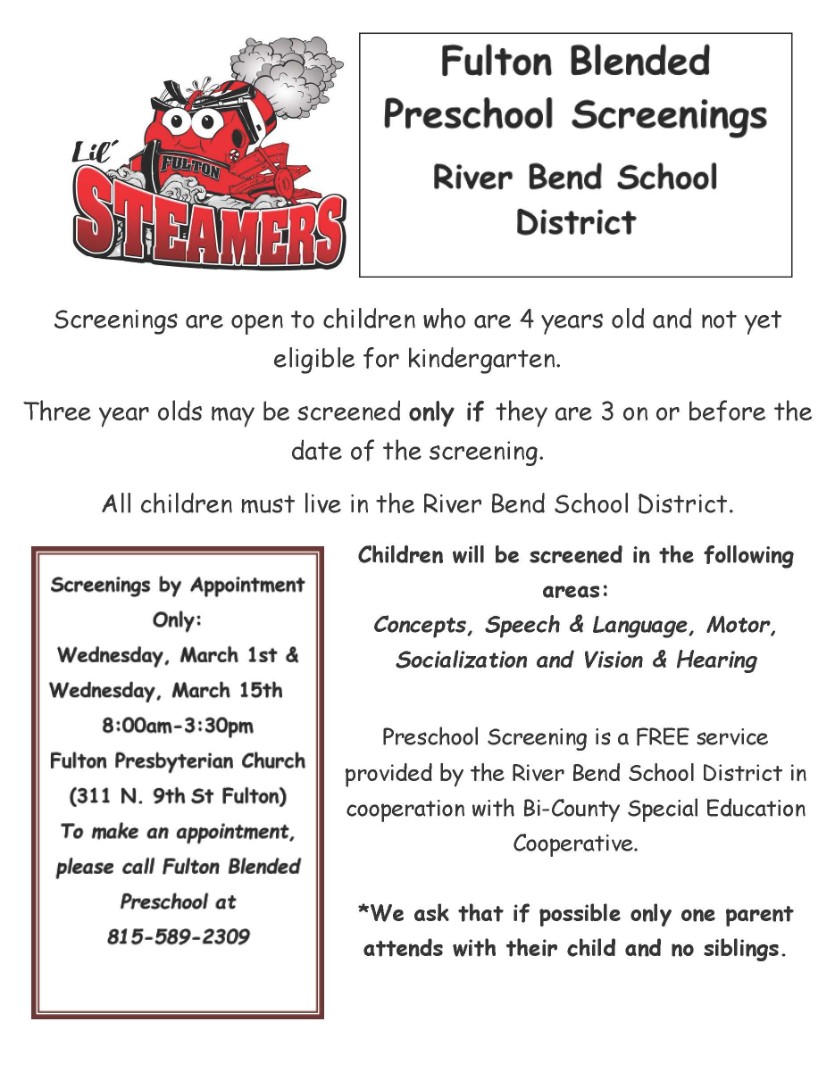 Fulton Blended Preschool will be having their Preschool Screening for the 2022-2023 school year on Wednesday, March 1st and Wednesday, March 15th from 8 am - 3:30 pm by appointment only. Please call the Preschool at 815-589-2309 to set up your appointment.
The screening will take place at the First Presbyterian Church (311 N. 9th Street, Fulton). To qualify, your child must live in the River Bend School District and be 3 years of age on or before September 1st, 2022. If they will be 5 before September 1st, they will be Kindergarten eligible and therefore will not qualify for our program, unless they qualify for Special Education services. In the case that we have more students than we have spots in our program, the children with the highest number of risk factors and greatest need will get in first. Please call the Preschool if you have any questions.
Click here for the Dental Clinic Forms